A July Beach Evening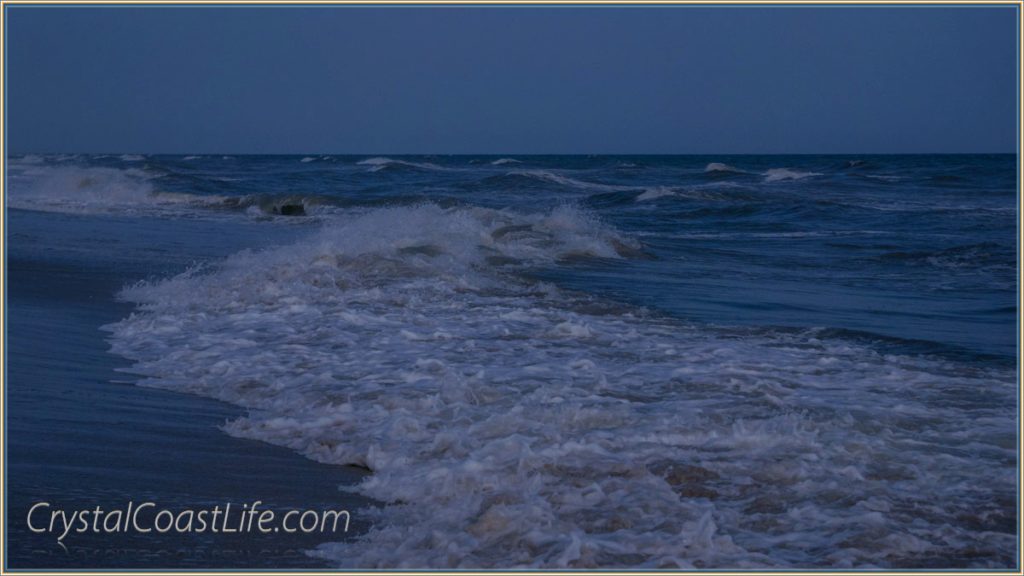 You are more likely to walk outside and feel a beach evening than you are to know that it is outside waiting for you. A beach evening is more about the air and breeze than it is about how it looks outside. You can go outside in the complete dark and know by how the air feels on your skin that it is great evening to be at the coast.
When you have a beach evening, you feel embraced by the warm, moist air. Maybe it is a tropical evening with a touch less heat but the warmth is crucial to the sense of comfort that makes you wish that your time outside might never end.
After dinner on Friday, June 13, 2014, I went outside for my normal after dinner walk. The minute I felt the breeze, I knew that I was in for a treat. A warm wind coming off the water seemed to follow me on my hike along the marshes. It was the feel of a beach evening that erased any thought of turning around and heading back to my easy chair.
A good beach evening removes even the slightest memory of times when you have felt a cold wind off the water. Somehow the temperature on one of these special evenings seems to be perfectly regulated because you never get chilled or too warm. It is a night when being outside is a treat that stays in your memory for a long time.
Even the sounds of a beach evening get filtered through that warm, moist air and end up somehow less jarring to the senses. When I think back to all the great walks that I have enjoyed on beach evenings, some great memories come sliding back into my mind.
There were many evenings on Ocracoke Island when I was camping there in my twenties. The beaches were endless and the only lights were flash lights or moonlight reflected off the water. Then there were the wonderful evenings with the family, first at South Nags Head and then down by the Cape Hatteras Lighthouse. There was plenty of light along the beach in Nags Head but at Cape Hatteras you could still easily plunge yourself into the darkness but the darkness always came without any hint of fear.
You do not have to be on a beach to enjoy a beach evening. One of my favorite things to do when I have finished my walk is to sit on one of our neighborhood's boardwalk benches that look out over Raymond's Gut. A strong breeze coming in off the White Oak River can blow away a lot of cares. I have had enjoyed many beach evenings on the docks at Beaufort, North Carolina.
Besides feeling a beach evening on your skin, it has a wonderful smell that is a mixture of salt water and other summer smells from a Carolina night. Sometimes there is a hint of pine or beach vegetation and other times the scent of marsh grass and tidal flats overwhelms almost everything else. Over on the beach, the smell is mostly ocean but the result is the same in both places. For a moment your worries are gone with the evening breeze and pleasant smells.
A beach evening with its warm winds and comforting smells puts you at ease and lets you enter a word where the sound of the wind, water, or waves often drives away the day to day worries that so often challenge our modern lives. The only thing that can make it more perfect is perhaps a few lightning bugs flitting across the lawn as you head back into your home.
I have many pleasant memories of beach evenings here on the North Carolina coast. I was fortunate as a child. Even though my mother was a single parent, she managed to carve out a couple of weeks each summer when we took a vacation. Being true North Carolinians, we either went to the mountains or the beach. I remember the beach winning about three quarters of the time.
Mother would pile whatever nieces and me that would fit in her old 1953 Ford and off we would go to the beach. Somehow she found the time to pack a picnic lunch of fried chicken and country ham biscuits and there would be a cooler full of small bottles of Coca-Cola. The roads were all two lanes but she never failed to get us there safely. She was a better driver than many men. The beach cottages we found were always simple and a few blocks off the beach but it was still heaven to a car full of kids from the North Carolina Piedmont.
There were tomato sandwiches for lunch and at least a couple of seafood dinners out during the week. Most memorable were those long evening walks on the beach. Some nights were perfect beach evenings as I have described.
A couple of nights ago I was out enjoying a late night walk and it slowly dawned on me that I had stumbled into a perfect beach evening. There was no shortage of warmth but I was not hot. The air was moving and it smelled of the beach. The humidity was not overpowering and except for walking on a street among pine streets, I could easily have been on the beach in the mid-fifties in Nags Head. The walk brought back lots of great memories of trying to keep up with my teenage cousins along the dark sand dunes and crashing surf of those long ago trips.
A couple of weeks ago I met a couple from Nags Head on an evening walk at Third Street Beach. I asked them why people who lived at the beach had driven the three hours or so to our beaches. The husband quickly replied that Nags Head had gotten so crowded that it was hard to enjoy his hometown beach. It reminded me of how blessed we are to live in a beach area that is not over crowded.
It is good that there are still some beaches where you can have your own space and hear the waves if you choose to do so. It is nice that there is room for families, fishermen, and even our canine friends. While it might seem a little crowded on the streets of Emerald Isle in mid-July, it is unlikely that you will have trouble making a left turn. Someone will stop and let you make that turn or even let you into the line of traffic if you are waiting. That is just the way it is here on the Crystal Coast where the family beach is still alive and well and you just might find a few perfect beach evenings to enjoy our remarkable shores. Do not be surprised if you see more stars in the sky than you ever have.